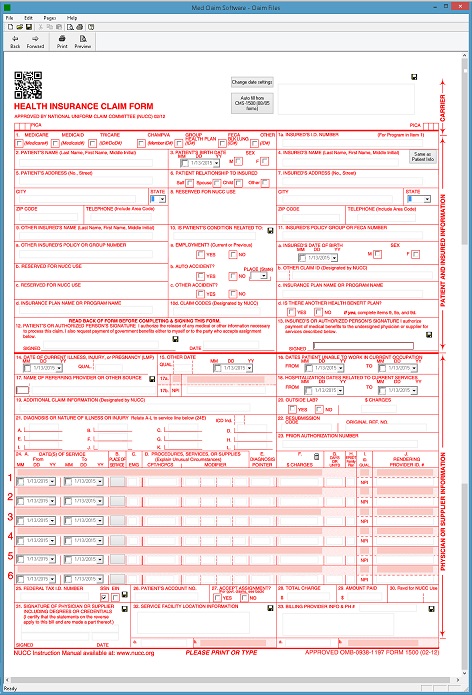 MedClaimSoftware is dedicated to providing feature-rich CMS 1500 software and UB 04 Software. File health claims the quick and easy way!



Our CMS 1500 software is a great choice for submitting your claims by paper or electronically. Import via Excel. Create unlimited claims. CMS 1500 Software will save your data in a "Print Image Format" which can be easily translated by your clearinghouse.

You can download a FREE trial by clicking the TRY NOW button at the top of this page. A 2-user, one-year license of the CMS-1500 and UB-04 can be purchased for $69.95. A permanent license can also be purchased through our sales office at (480) 460-9311.

We can get you started with software right away! Order online and our secure shopping cart will guide you through the process to receiving a code which will activate both the CMS-1500 and UB-04 software. Activate the software any time of the day or night.
Import via Excel (xls or xlsx).


Option to submit CMS 1500 claims electronically to your clearinghouse. Submit cleaner claims to payors/carriers, provide faster payment, and cut the costs involved in processing paper and erroneous claims. You get paid faster and many times you get paid more.


Batch printing and batch e-filing. Print and/or e-file one or more claims at a time.


Easy to use! Type information on the screen as it would be typed on the form itself.


Save and load claims anywhere on your hard drive, network drive or to external diskettes for quick retrieval.


Create templates for quick completion and to eliminate redundant typing.


Prints on pre-printed red Medicare forms with data alignment or print the entire form in color or black & white. Create unlimited claims. Convert to PDF.


FREE Technical support.

We have a friendly and courteous sales staff that is available by phone 7am to 5pm MST. Technical support is also available during that time as well as at night and on weekends by e-mail.


The CMS-1500 software functions on any Windows operating system from Windows XP to Windows 10 The software functions on networks or stand-alone personal computers and will work with any printer.

Our CMS-1500 software is ideal for:

Medical Billing
Chiropractic Billing
Physical Therapy Billing
Psychology & Psychiatric Billing
Drug Treatment & Behavioral Therapist Billing
Ophthalmologist & Optometry Billing
Over a dozen more healthcare specialties!

Whether you use the CMS form to bill Blue Cross, Blue Shield, Medicare or Medicaid, or to bill Commercial insurances such as United Health Care (UHC) and other insurance plans, you can submit claims quickly and easily, by paper or file electronically.

Related...

cms 1500 software, cms1500 software, cms 1500 form, hcfa 1500 software, cms hcfa 1500, hcfa 1500, 1500 software, cms 1500, ub 04 software, ub-04 software, ub 04 claim software, ub 04, claim forms, claim software, medical billing software